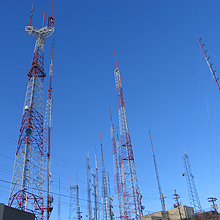 NRA series
Remote-controllable surveillance monitors from 9 kHz to 6 GHz. Compact design in standard 19" rack-mount units, extremely low power consumption and high measurement speed.
Spectrum Analysis, Level Meter, Channel Power and Scope modes for permanent monitoring of important signal parameters during normal operation.
NRA-2500
Low-cost product specially for monitoring the L-band in mobile and fixed satellite communications installations.



NRA-3000
Analyzer with 3 GHz frequency range for equipment monitoring for installation, operation and maintenance of radio, TV and industrial equipment.
NRA-6000
Ideal solution for network operators and their subcontractors in radio, telecommunications, and wireless (GSM, UMTS, LTE) with a frequency range from 9 kHz to 6 GHz.